The Tutorial
Here I show how an empty float is prepared for the big event!

Before the Event
Let the fun begins before the parade!



The Parade Begins!
The fun has just begun!



Citrus Floats
That is why the Parade's name!
Theme Park Characters
Of course, you know who they are!

Marching Bands
High School and College students marching their way!
Parade Route
This is where the parade builds up and march to the TV spot!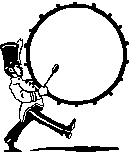 This site is not related to
Florida Citrus Sports (FCS SPORTS)
, The Orlando Citrus Parade organizers. Images on this site are free to use, provided that you will credit Carol Alfonso as the author of the materials. PLEASE, if you use any images on your site, please link them back to this site.
No image from
Florida Citrus Sports (FCS SPORTS)
has been used on this site.